Property Management Security Services
NAVCO is a leading security system company with an expertise in property management security. We offer integrated security solutions for your commercial properties and buildings. Our goal is to streamline your security system for all of your properties and simplify your security operations. You will be able to monitor all of your buildings remotely from one location on your phone, tablet, or computer. Our property management security services are the best in the industry. We offer assessment, planning, design, installation, training, and ongoing updates, support, and monitoring.
Security Challenges for Property Management
Property management faces a number of security challenges, including internal theft, shoplifting, shrinkage and fraudulent claims. Protecting stores and profits from these threats requires sophisticated electronic security systems, as well as a simplified way to manage them.
The challenges for the property management industry include:

Costly Onsite Guards


Onsite Concierge Team


Intercoms at Access Points


Someone Onsite to let in Visitors & Repair Personnel


Loitering & Safety Issues in Parking Lots & Garbage Areas
NAVCO Enterprise Security Solutions
NAVCO has extensive experience partnering with leading property management nationwide to update their enterprise security systems and simplify its administration. We've helped property managers unite their systems into a single networked solution that allows them to see what's happening in any store. This enables them to alert store managers to issues in real time and reduce losses associated with theft.
Equity Residential
AIMCO
Kettler, Inc.
Bayside Commons Condominimum
Rittenhouse Claridge LP/Kaiserman Co.
Diablo Commercial Properties
901 East Whitmore
CBRE New York
AFI Columbus, LLC
BKG Legacy Ranch 1, LLC
One 12 Courtland
Vivint, Inc.
Download Property Management Brochure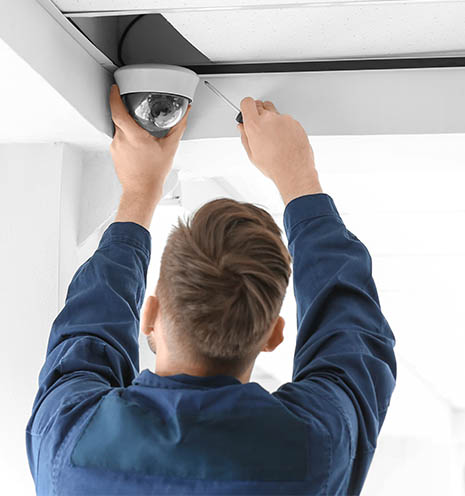 We Know Property Management
There are constant demands on property managers from owners, tenants, third-party vendors and more. A property management team needs solutions and not more complexity. That's why a customized, comprehensive, integrated electronic security system is one of the most powerful tools a property manager can have to ensure the safety of their tenants and the efficiency of their business.
Cloud-based electronic security systems streamline and simplify many of the tasks property managers handle each day. An integrated system makes it easy to coordinate access for repair contractors, managing tenant move-ins and move-outs, and monitoring problem areas for suspicious activity with a few taps on your smartphone or laptop. Real-time updates give you the ability to respond faster to threats and inform your decision-making.
How can an integrated security system improve your business? 
A Complete Suite of Business Security Solutions

Video Surveillance
Get real-time views of access points and easily access visual records.

Mobile Management
Manage security from any location and enable users to open doors with phones.

Identity Management
Seamlessly update user identity information across IT systems and applications.

Visitor Management
Create welcoming and safe environment for visitors while automating tracking.
The sheer number of people that need access to a building or unit is mind-boggling: tenants, property managers, cleaning staff, utility workers, repair personnel, electricians, plumbers, and so on.
Electronic access control makes giving out keys and late-night visits to locked-out tenants things of the past. Now, you can control access for each of your units and areas from your phone or mobile device on the go. You can set access to expire (for third-party vendors such as repair personnel) and change the locks the instant a tenant moves out. With electronic access control, you also have a convenient audit trail of who has accessed what area and when.
A new access control system can:
Eliminate the need for onsite guards
Cut the cost of having a concierge team
Remove the need for archaic intercoms and access points
Allow tenants to grant temporary access to visitors and repair personnel
Integrate security with a third-party property management software
Give your tenants easy access to their "Smart Home" all from one app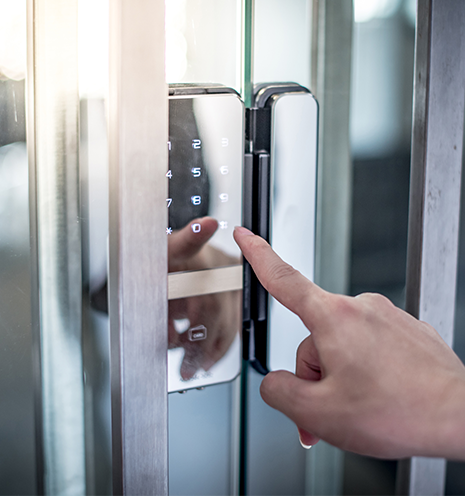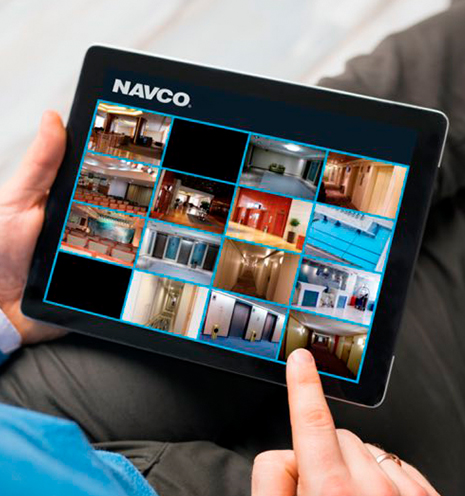 Remote Central Monitoring
Oversee multiple locations or buildings from one central dashboard with centralized remote monitoring. Each of your employees in your organization (regardless of location) will be trained on the same system. You can also set up custom alerts so you can get notifications for problems in real-time.
Centralized remote monitoring reduces your need to be on-site to take care of small issues or check up on your properties—you can do it all from wherever you are. 
Indoor/Outdoor Video Surveillance
With cloud-based technology, you can get real-time access to indoor or outdoor video footage on your computer, tablet, or phone. Boost the safety of your employees and tenants by monitoring problem areas (parking garages, dumpsters, back doors, or remote areas of the property). You can also use our intelligent analytics to get automatic notifications to your phone if something goes wrong. 
What is Property Management Security?
Property Management Security is the practice of securing properties that are being built, rented, or repaired. Property management security makes multiple location surveillance easy with central remote monitoring. It keeps your properties safe with access controls, alarms, intrusion detection, indoor and outdoor video cameras, 24/7 video monitoring, instant cloud access, email and text alerts and more. Enjoy the ease and convenience of accessing all of your properties from your phone, tablet, or computer. Entrust NAVCO to provide you and your team with safe property management with our property management security services.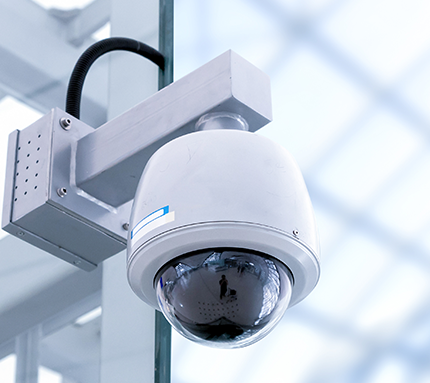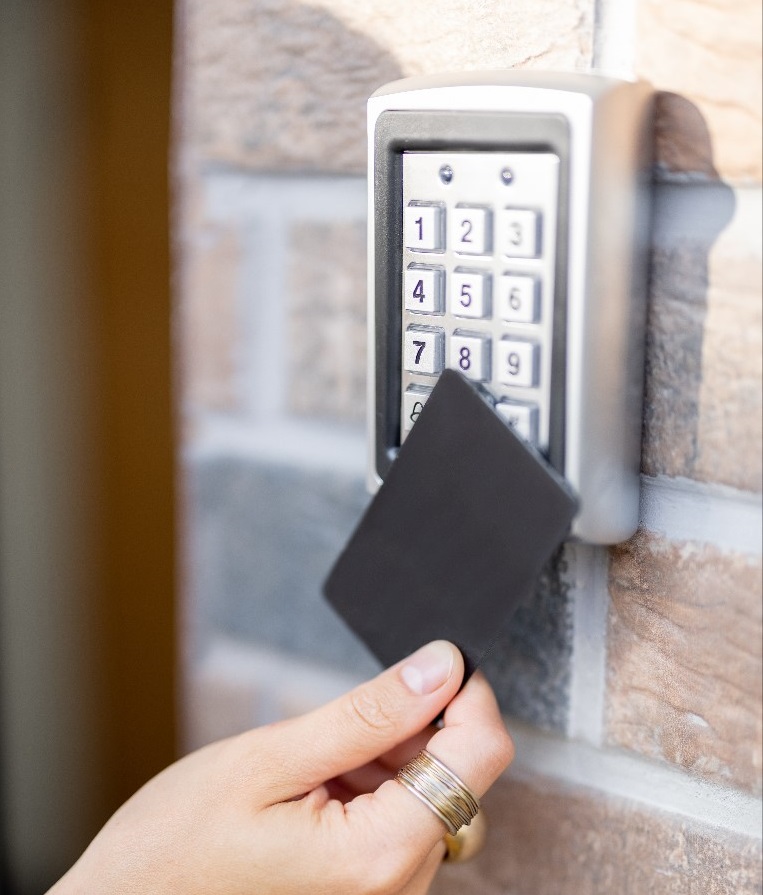 What are Property Management Security Services?
Property management security services can include an assessment of existing security systems as well as a security risk assessment, presentation and determination of security solutions, design of the security system, installation of the security systems, and diagnostics, analytics, system updates, and monitoring after installation.
At NAVCO our customized security services protect your properties and your tenants at any type of property. We offer property management security services that cater to your unique properties. Our security systems help you avoid property damage, deter crime, control access, and lower insurance costs. 
What are the Best Security Systems for Property Management?
NAVCO has the best property management security solutions. We offer customized integrated electronic security systems that reduce or even eliminate security issues. Our premium equipment is the most up-to-date in video surveillance and monitoring. This helps you get the best results when a security event arises. See a list of our partners here.
How Much Does a Property Management Security System Cost?
The types of buildings a property manager oversees vary as do the security needs of each managed property. Therefore, the cost of security systems also vary. NAVCO works with you, your team, and your budget to build a security solution that suits your needs.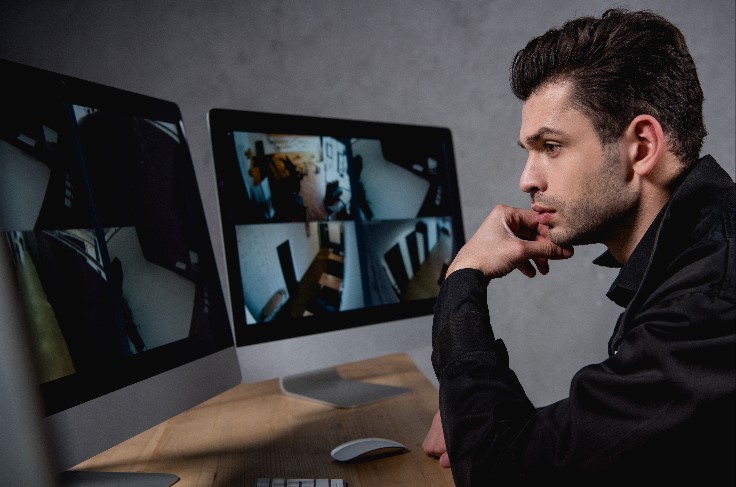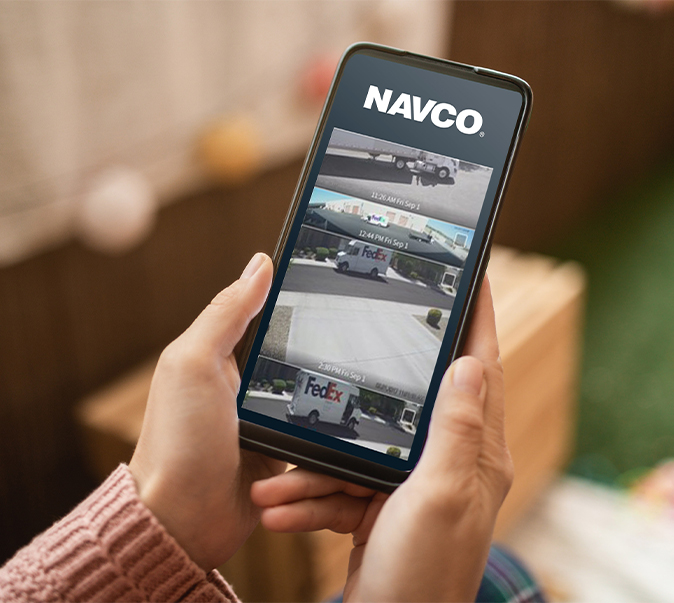 Types of Security Services for Property Management
NAVCO's security systems for property management are crafted for the individual security needs of your buildings. Our property management electronic security systems are cloud-based or hybrid for ease of use. Video surveillance, mobile management, identity management, visitor management and access control are some of the property management solutions that we offer. 
Who Offers Security Services for Property Management?
NAVCO is a company with over 50 years experience in security system consultation, design, and installation. We are a proven leader in the security industry with clients like Wells Fargo, JP Chase Morgan, Amazon, Brinks, FedEx, Aramark, Gucci, and many more. Our integrated property management security solutions offer safety for commercial, industrial, and warehouse spaces as well as apartment complexes, condos, parking garages, vacant properties and more. We will work with you and your team to customize the right level of security for all of your properties. 
Who Installs Property Management Security Systems?
NAVCO installs property management security systems for all types of properties. Our professional installers will complete the job in a timely manner. Large-scale installations are overseen by a manager that ensures the timeline and all of your security needs are met. After installation we sync up multiple properties to be monitored at once in one location from your phone, tablet, or computer. In addition to video camera installation, NAVCO offers wireless intrusion detection sensors, remote monitoring, security alarms, security software design, internet interface, monitors and more. We also train you and other security personnel to operate your new integrated security system.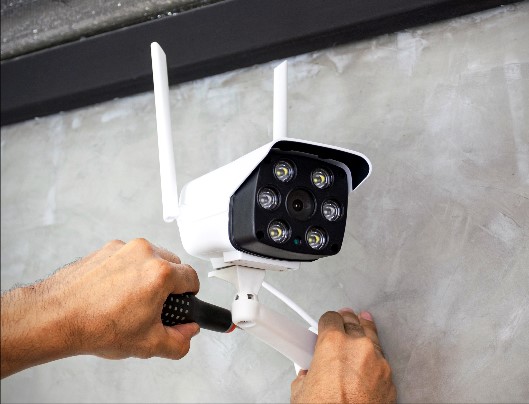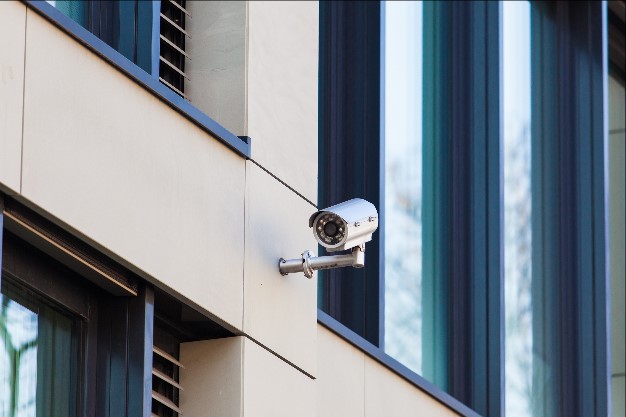 What are the Best Security Cameras for Rental Property?
NAVCO has the best security cameras for rental properties. Our high definition CCTV cameras will protect your rental property and its residents, tenants, or vendors. Our security systems boast cloud-based or hybrid solutions that allows you to access live and stored video from all of your properties in one place, on a phone, tablet, or computer. NAVCO also offers intelligent analytics that can send you automatic security notifications by phone or email. Secure your properties remotely with the best security cameras and video surveillance equipment available.
Protection = Profitability
Having the extra "eyes and ears" of an integrated access control system not only increases the level of protection for your business, but it increases the profitability as well.
Monitored security cameras can eliminate the need for onsite guards, and cloud-based access control can reduce your dependence on concierge staff to let tenants and third-party personnel in and out. These solutions also help you intervene on minor issues, such as loitering or unauthorized access, and prevent them from becoming costly problems like vandalism or lawsuits.
A modern security system with features like access control from an app, a web portal to report problems, and 24/7 monitored surveillance is also attractive to top-tier tenants who are willing to pay for the additional convenience and security it provides.
NAVCO – Your One-Stop Shop for Security Systems
Cobbling together the various elements of a complete security system from various vendors is technically difficult and a major headache. And it leaves you with more points of vulnerability for breakdowns and security gaps. At NAVCO, we know that each location has unique requirements and challenges for staying protected. Our process starts with a site audit to see which features and technology solutions will work best for your business. We integrate each element to work as one seamless system. We are committed to making each installation picture perfect and boast a 97% success rate.
We provide your staff with on-site training so they will be familiar with the system that keeps them safe.
Once your customized security system is installed, NAVCO will be your ongoing partner, automatically updating and supporting your software and hardware.
Are you ready for all the benefits that an integrated security system has to offer? Give the security experts at NAVCO a call at (800) 788-3779 for a free site audit of your property or business.
Trusted by national leaders and small businesses alike.
"The systems we put in place and the support I received has tremendously reduced my stress and helped simplify logistics. I will be forever grateful to NAVCO."
"Extremely professional courteous employees. The knowledgeable staff educated me to make the proper decisions to ensure that my assets were secured."
"We relied on NAVCO's expertise and knowledge. They got to know our business and recommended the best solution. We've been thrilled with the results ever since."
Get the 10 questions to help you choose the right electronic security partner now!